The Anchor Legacy Society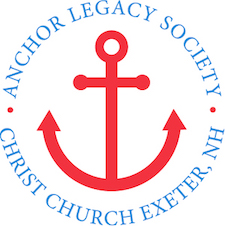 We acknowledge those faithful departed who remembered Christ Church through bequests going back to 1879 to our most recent gift in 2017. Over the next year, we will add the names of the living who have remembered the church through a planned gift.
In Memoriam
1879 Nathalie E. Baylies
1879 Edmond Lincoln Baylies
1884 Caroline E. Harris
1892 The Rev. Henry Ferguson
1905 August Belmont
1905 Walter C. Baylies
1905 J. Paul Haughton
1905 Clarissa T. Smith
1905 Eva S. Cochran
1905 Eliza Greene Waterman
1905 The Rev. Lucius Waterman
1910 The Rev. George Brinley Morgan
1945 Lucy Soule
1945 Dearborn Family
1948 Arthur G. Leacock
1950 Catherine Seward
1950 Maria Gardner
1955 John C. Kirtland
1955 Anne B. Leacock
1957 Laura Nelson
1963 Louise S. Towle
1990 John F. Higgins and Jeanne G. Higgins
1990 Jean Whitman Leidtker
1990 William Kurtz
1991 Margaret M. Sloan
1992 Walter E. Doe
1995 John Cole and Barbara Cole
1995 Ethel P. Sanborn
1997 Edward A. Dodd
1998 Ruth Ladd
2010 James Mixter
2011 Rosemary Coffin
2012 Margery Heffron
2012 Richard and Frances Hull
2014 Helen D. Hobbs
2015 Floyd H. Parkman
2017 Christine S. Kramer
2020 David D. Coffin
2020 Nancy S. Dunnell
Joined in 2020
Frederick and Diane Kollmorgen
Stephen and Patricia Gianotti
Jeff and Libby Neil
Mark and Leslie Pendleton
Paul and Judith Wainwright
David L. and Susan T. Wakefield
Gordon and Brynn Rehnborg
Laurel Patterson
The Anchor Legacy Society includes those who have remembered Christ Church in their wills or have made provision for the church through other planned gifts.
If you are making a Will or updating financial or estate plans and you would like to support God's work in Exeter and the wider church and community, please reach out to us for more information so that we can answer any inquiries you may have. In addition, we take this opportunity to remind parishioners that the Endowment Fund welcomes gifts for any occasion; it is not exclusively for bequests. Gifts in memory of a family member or friend are very appropriate; likewise, gifts in honor or in celebration of a person or event are equally desired. There is any number of occasions when a gift can be made, (birthdays, baptisms, graduations, anniversaries, good fortune, and others) recognizing the moment and helping to grow the Fund. Email office@christchurchexeter to reach any one of us.
Tom Kelsey, Laura Tetrault, William Stafford, The Rev. Mark Pendleton